---

Palm Sunday – March 29
8:00 am & 10:00 am
Liturgy of the Palms and Holy Eucharist
This year our Choral Eucharist will begin at 10:00AM with the Palm Liturgy outside, around the Bell Tower, processing into the church for the rest of the service including the participatory Passion that starts with Jesus' triumphal entry into Jerusalem.


Maundy Thursday – April 2

7:00 pm
At this celebration we commemorate the first Eucharist and subsequent events, including the washing of feet. The Watch at the Altar of Repose follows. This act of prayer and presence calls us to watch with our Lord for one hour, as the disciples were requested to do in the garden. There are participation sign-up sheets in the Narthex.

Good Friday – April 3

12:00 noon 
The Stations of the Cross
Contemplate, and enter into the mystery of Jesus' gift of himself to us with this exercise in imagination.
7:00 pm
The Liturgy of Good Friday
This evocative service brings us to the foot of the cross. We end in silence as we begin our wait for the resurrection.

The Great Vigil of Easter – April 4

8:00 pm
Bishop Michael Hanley will preside and preach at this service that begins with the lighting of the New Fire of Easter. Our salvation history will be told through the medium of cinema with musical responses from the choir. We then move from Lent to Easter, from death to resurrection. Please bring your bells to the Vigil to welcome Easter with a joyful noise of praise and thanksgiving. With this sound and the shout of "Alleluia! Christ is Risen!" we begin the first Eucharist of Easter.
Easter Sunday – April 5

8:00 am – 9:15 am – 10:30 am
Festival Eucharists
Easter is here! We'll celebrate in style. Come and see, and join us as we sing "Jesus Christ is Risen Today, Alleluia!" Remember, the third service is 15 minutes later than usual – 10:30 am.
---

Diocesan Youth Mission Trip
August 1 – 8, 2015
Plans are underway for up to 20 youth from the Diocese of Oregon to go August 1-8, 2015, to the Episcopal Mission of the Good Shepherd in Fort Defiance, Arizona to engage in mission & ministry with the people of the Navajo Nation. All youth who are in 8-12 grades are welcome to apply. A $50 non-refundable deposit is due along with the application. The total cost is $300 per youth.
DOWNLOAD BASIC INFORMATION SHEET
---
Our Wednesday evening Lenten gatherings this year will help us all participate in the zany Lent Madness program, sponsored by Forward Movement Publications. Even if you can't join us on Wednesday nights, you can still be a part of Lent Madness by clicking on the Lent Madness image. Let's have fun this Lent befriending the saintly folks who have preceded us in this amazing faith!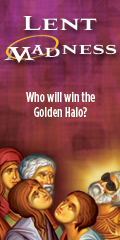 ---
The clergy, staff and community
of  St. John the Baptist Episcopal Church in Portland, Oregon warmly welcome you to our website.  We hope that you will visit our "real" parish, introduce yourself, and feel free to explore our church and grounds. We take seriously the ministry of hospitality with a goal of helping visitors find their way into our family. We have a variety of programs, which we hope will meet your spiritual, educational, worship, and social needs.
Regardless of your age and whether you are family of one or many, we want you to find a comfortable place in our parish community.
For more information please contact Brent, our Parish Administrator, Father Robert, or Mother Heather at (503) 245-3777