Our Wednesday evening Lenten gatherings this year will help us all participate in the zany Lent Madness program, sponsored by Forward Movement Publications. Even if you can't join us on Wednesday nights, you can still be a part of Lent Madness by clicking on the Lent Madness image. Let's have fun this Lent befriending the saintly folks who have preceded us in this amazing faith!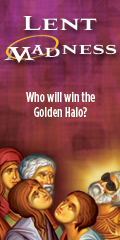 ---
J like a book club, but we're reading articles about raising children and growing in faith.
Read this month's article then watch for planning an online discussion.
February's article, is "Parenting as a Gen Xer: We're the first generation of parents in the age of iEverything".
---
The clergy, staff and community
of  St. John the Baptist Episcopal Church in Portland, Oregon warmly welcome you to our website.  We hope that you will visit our "real" parish, introduce yourself, and feel free to explore our church and grounds. We take seriously the ministry of hospitality with a goal of helping visitors find their way into our family. We have a variety of programs, which we hope will meet your spiritual, educational, worship, and social needs.
Regardless of your age and whether you are family of one or many, we want you to find a comfortable place in our parish community.
For more information please contact Brent, our Parish Administrator, Father Robert, or Mother Heather at (503) 245-3777